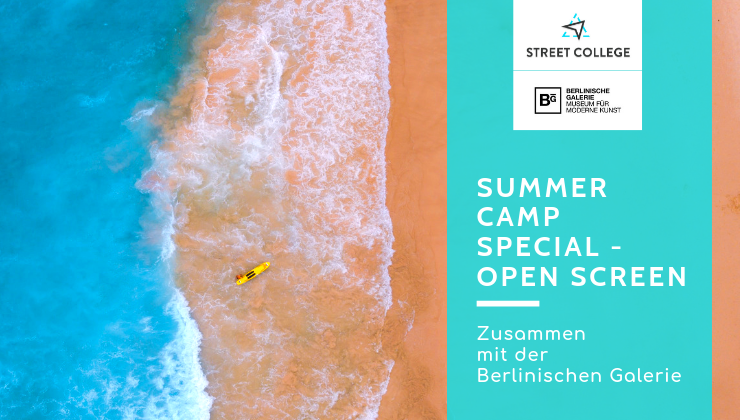 Bei einem Open Screen in Zusammenarbeit mit der Berlinischen Galerie bekommen Teilnehmer*innen am 31. Juli 2019 die Möglichkeit, ihre Videos, Fotos, Bilder oder Storys einem Publikum zu präsentieren. Dabei ist es möglich, das Material entweder für sich sprechen zu lassen oder ergänzend etwas dazu zu sagen. Ganz wie es den Künstler*innen beliebt. Natürlich sind auch Besucher*innen willkommen, die sich einfach nur von den Arbeiten anderer inspirieren lassen wollen.
Nachdem wir im Sommer vergangenen Jahres die Berlinische Galerie mit zahlreichen Teilnehmer*innen erkundet und belebt haben, freuen wir uns sehr, dieses Jahr auch in unseren Räumlichkeiten ein gemeinsames Projekt durchführen zu können. Im Rahmen des STREET COLLEGE Summer Camps kommt Jelena Fuzinato von der Berlinischen Galerie am Mittwoch, den 31. Juli in das STREET COLLEGE.
Teilnahme der Künstlerin Fungi
Wir freuen uns, die Teilnahme der Künstlerin Fungi bekannt geben zu dürfen,  welche ihre Arbeiten im Rahmen des Open Screen präsentieren wird. Wenn ihr vorab eine Idee von ihren Bildern bekommen möchtet, besucht am besten ihren Insta Account: @fungifung  – Visual artist. Visualizing poetry, bringing colors and shapes to thoughts.
Rückblick auf den Besuch des STREET COLLEGE in der Berlinischen Galerie 2018
Im Vergangenen Jahr bot sich STREET COLLEGE Teilnehmer*innen die Möglichkeit, sich bei einem Besuch in der Berlinischen Galerie intensiv mit ihrer Kreativität auseinanderzusetzen und in verschiedenen Varianten auszuprobieren. Dieses Jahr sind wir am 2. August eingeladen, die Berlinische Galerie erneut zu besuchen.
Sieh dir diesen Beitrag auf Instagram an
https://streetcollege.de/wp-content/uploads/2019/07/Blog-Titel.png
420
740
Marta Bloch
https://streetcollege.de/wp-content/uploads/2015/09/Street_College_Logo_rgb_shadow_transp.png
Marta Bloch
2019-07-26 14:55:56
2019-07-29 11:05:23
Open Screen - in Kooperation mit der Berlinischen Galerie